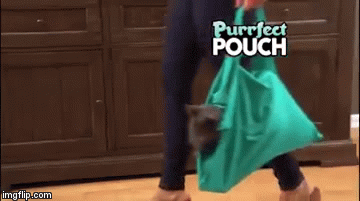 Separation Anxiety? Travel Anxiety?
Calm Kitty - Content Kitty
Wouldn't it be terrific if you could take your cat out with you for all kinds of adventures and experiences? Finally, Cat-Lovers can do just that! While keeping our cats calm, secure and MOST important content. Just think of the Socialization!
The Cat Crazy Comfy Pouch is an innovative, comfortable cat carrier and a health and grooming aid, All-in-One! Now you can hold your kitty steadily, calmly, and comfortably. Whether taking them to the vet, traveling or hanging out. And with shoulder carrying, you barely feel the weight at all. It's not just fantastic for car trips but even for bike rides as well!
No Trauma, No Drama 😍
As a grooming aid, it keeps your furbaby calm and still while clipping their nails. Just slide the collar over kitty's head, adjust to size using the closure and zip it up. There are convenient openings for their paws. Ideal for any size cat. Designed to keep your baby relaxed and above all, SAFE.